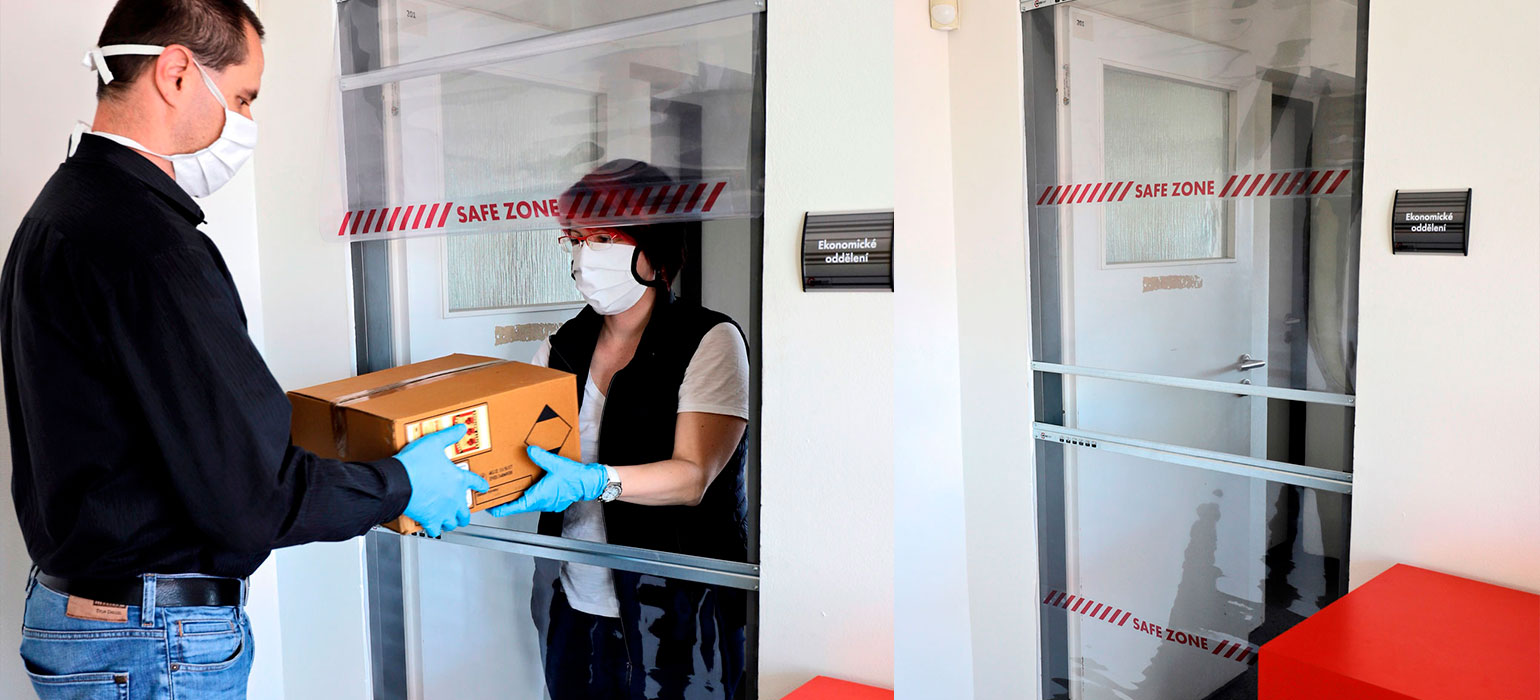 Magnetic ET Flexi protective screen for door frames
ET Flexi protective screen is a simple and effective way of optical and hygienic division of space to protect individuals or groups from a direct contact with the environment. The screen effectively blocks e.g. airborne disease particles entering the personal space of individuals protected by it. The screen is suitable e.g. for shops, market stalls, industrial and food facilities, offices, etc.
Main advantage
Benefits
Effective protection of personal space from direct contact with airborne diseases
Quick and easy installation into door frames
Installation possible also on non-magnetic surfaces by a component made from stainless steel (optional)
Excellent light transmittance - almost 90 %
UV and chemically resistant material, easy to disinfect
Variable length adjustment
Both for indoor and outdoor applications
Foldable – can be dismantled and saved for future use
Technical details
The magnetic ET Flexi screen for door frames consists of a washable chemically and UV resistant transparent PVC foil (see Chemical resistance certificate) fixed in the top and bottom galvanized metal slat with strong magnets for quick and easy fixing to metal door frames without any permanent installation. This method of installation also allows operative and easy change of setting of the foil´s height as required to effectively protect the divided spaces and persons within them and to allow exchange of documents, money or other objects. If installing the foil into panelled door frames or onto any other non-magnetic surfaces (wood, wall) an optional stainless steel component ("magnetic strip") is available that can be easily attached to the base using adhesive tape. It sticks to any non-magnetic surface. The component can be also additionally mounted to the non-magnetic base using screws (screws are not included).
After that, the screen can be installed onto this modified surface in the usual way. The standard package includes an adhesive tape with SAFE ZONE print that warns about the placement of the screen inside a door frame. The customer may choose the height at which this sticker will be applied. Upon requirement,
the slats can be made from stainless steel. The magnetic door frame screens are delivered in various dimensions (see table below). Other dimensions are available upon individual request. The screens are suitable for indoor and outdoor applications. We strongly recommend regular disinfection of the screens using suitable disinfectants. Use disinfectants based on sodium hypochlorite or alcohol. The magnetic screen can be dismantled anytime and easily folded by rolling it tight and stored until future use.
Usage
Industry
Hobby