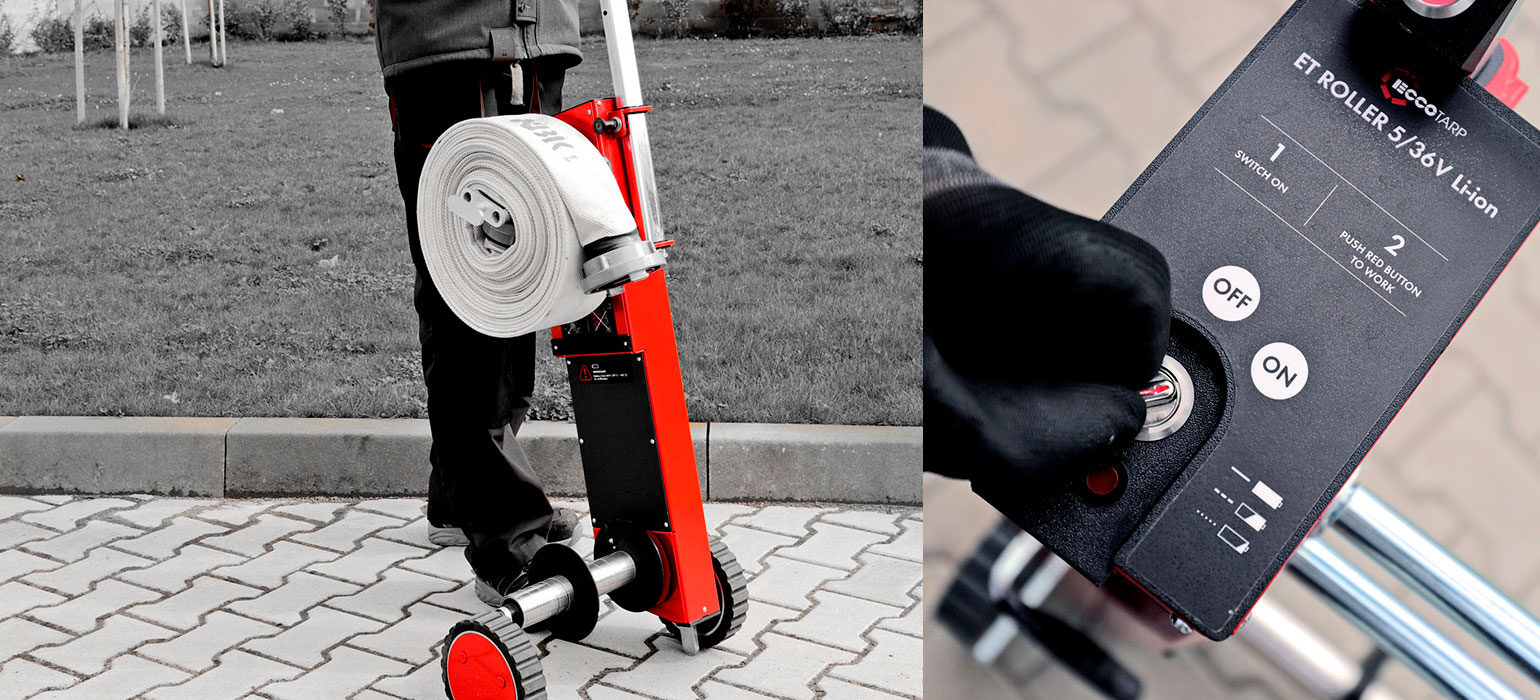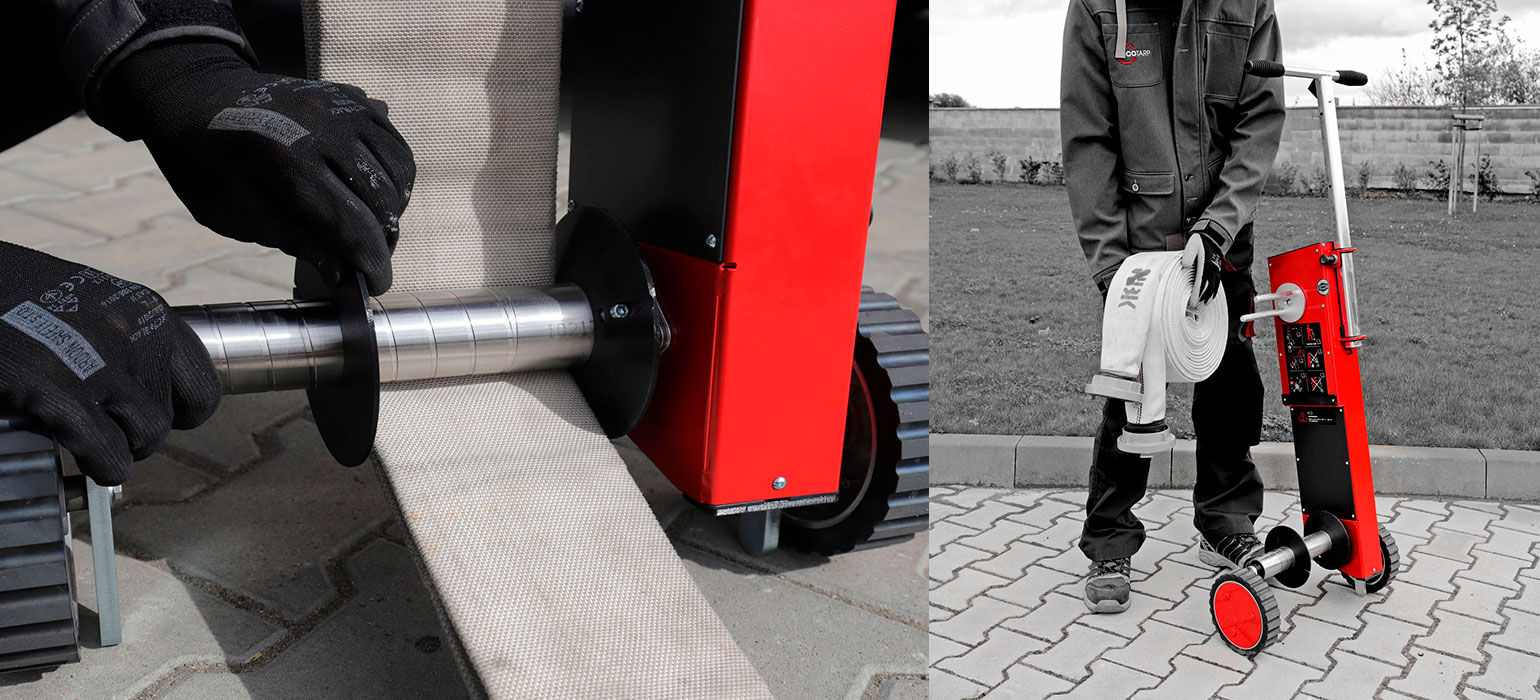 Electric roller for fire hoses up to 5" ET-Roller 5
Compact battery-operated foldable fire hose roller tool with a powerful built-in electric motor minimizes the time required for reeling unwound fire hoses after action or training. The device can be also used for emptying filled fire hoses or for controlled unwinding of an already wound hose.
Main advantage
Benefits
Wickelt trockene sowie feuchte Feuerwehrschläuche bis zur Größe von 5" schnell und komfortabel auf
Leichte Bedienung, schnelles Einklappen in die Transportlage mit einem Zug
Intelligente Motorsteuerung – regelt die Geschwindigkeit des Schlauchaufwickelns
Motor mit Akku-Antrieb – bei einmaligem Aufladen Aufwickeln von zu 4600 m Schläuche
Funktion REVERSE – für bequeme steuerbare Abwicklung des bereits aufgewickelten Schlauchs
Verwendbar auch zum Wasserablass aus dem gefüllten Schlauch
Ergonomische, robuste Konstruktion mit zahlreichen Verbesserungen gegenüber Standardwicklern:
- leicht bedienbares System der Aufwickelns der Feuerlöschschläuche
- herausnehmbarer Schlauchhalter – ermöglicht den leichten Umgang mit dem aufgewickelten Schlauch
- Einzigartiges kippbares Fahrgestell – stabilisiert den Aufwickler und verhindert seine - Bewegung während des Aufwickelns



Technical details
Robust steel frame. The heavy-duty parts of all the shafts are made of high-strength steel. Durable surface finish – powder-coated or galvanized. Powerful DC motor, water and dust resistant. Powerful Li-ion batteries (alternatively also lead VRLA batteries). Charger included. Safe operation thanks to low working voltage. Durable control elements. Unique design ensuring high stability during winding and allows for easy handling of the wound hose.
Principle
The roller is very easy and quick to operate. Fit the straightened fire hose onto the removable carrier fork. Set the main switch to winding mode – ON. Press the WORK button on the handle and wind the full length of the hose. Then turn off the roller by changing to the position OFF. We can comfotably take the fire hose off thanks to the removable fork of the carrier immediately after winding, or if it needs to be moved closer, for example to the fire truck, we can leave it on a roller and take it to its destination, where it is subsequently removed from the roller.
The winder can also be used for convenient draining water from the filled hose by pulling it over guiding coil or for controlled unwinding wound hoses using the REVERSE function.
Safety
Safety limit on winding power (automatically switches off if limit is exceeded)
Smooth start, immediate stop
Intelligent control system adjusts the speed of winding
Safe working voltage – 36 V
Usage
Hasiči
Likvidace havárií